Mindtrek, an international technology conference, is held yearly in Tampere. Mindtrek 2017 is organized at Tampere Hall Congress and Concert Centre from Wednesday 20th to Thursday 21st September. In addition to sponsoring Mindtrek, HH Partners is also hosting a stand at the Exhibition Area (stand 31), where you can meet our team. HH Partners team at Mindtrek 2017 consists of our Partners Miika Erkkilä and Martin von Willebrand and our Associate Lawyers Tapio Siilola and Henri Tanskanen.
At our stand we will have information about the General Data Protection Regulation (GDPR), of which Henri Tanskanen has recently written an article to Mindtrek's website.
We sponsor the event and share our stand together with Validos ry; the Validos team will be demonstrating the use of open source software compliance tools at the stand. Our lawyer Tapio Siilola has written an article about Fossology to Mindtrek's website.
Presentations at our stand 31 on Wednesday 20th:
10.45-11.15 GDPR
12.30-13.15 FOSSOLOGY
14.30-15.15 GDPR
15.45-16.15 FOSSOLOGY
Presentations at our stand 31 on Thursday 21st:
10.30-11.00 FOSSOLOGY
13.15-13.45 GDPR
14.15-14.45 FOSSOLOGY
15.15-16.00 GDPR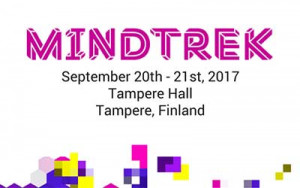 Mindtrek is an international technology conference that is uniquely packaged to serve a large variety of people from different walks of life. The conference is a culmination of advanced future technologies, out-of-the-box business concepts and a possibility to build new multi-disciplinary networks across country and industry borders.
In 2016, Mindtrek attracted visitors from 18 different countries: the total number of people taking part in last year's conference climbed up to almost 1,200. Altogether around 80 different sessions –speeches, presentations, demos and workshops – took place at the Mindtrek 2016, and 26 sponsors were on display in the exhibition area.
(Source: www.coss.fi)
See you at our stand!
Take a closer view of Mindtrek 2017!
Twitter: @MindTrek_, #mindtrek2017