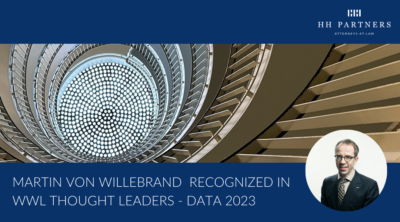 HH Partners' Martin von Willebrand was recognised as a Thought Leader in Information Technology in Who's Who Legal's Thought Leaders: Data 2023 publication together with 14 other Finnish lawyers. Martin has been included on the Thought Leaders list for several years.
Who's Who Legal's Thought Leaders: Data brings together the world's foremost practitioners in the area, giving readers access to their insight and expertise. This report features Q&As with practitioners who have extensive experience in data privacy, information security and IT matters. The featured individuals obtained the largest number of nominations from peers, corporate counsel and other market sources in WWL's most recent research cycle.
Typically around 25–30 per cent of the practitioners included in a Who's Who Legal guide are additionally selected to be a part of the prestigious group of Thought Leaders. Who's Who Legal has used the recommendations of clients and private practitioners to pick out the leading experts in a wide range of practice areas around the world.
Who's Who Legal is a well-known legal publication published by Law Business Research Limited since 1996.  Who's Who Legal has established itself as a highly reliable source for in-house counsel, government entities, agencies, and other legal professionals in their quest to discover top-notch lawyers specialised in specific practice areas or jurisdictions. To ensure utmost accuracy, the Who's Who Legal research process employs exclusive digital and in-person qualitative methodologies. This includes conducting 5,000 interviews with prominent practitioners each year. Additionally, they collect over 250,000 third-party recommendations annually.