The new EU General Data Protection Regulation (GDPR) will come into effect in May 2018, entailing significant requirements for the operations of organizations in almost any sector. HH Partners has prepared for this by investing in data protection expertise.
Our Associate Henri Tanskanen has earned the ANSI-accredited Certified Information Privacy Professional/Europe (CIPP/E) credential. Developed and maintained by the International Association of Privacy Professionals (IAPP), the CIPP certification program has become the global standard in privacy certification.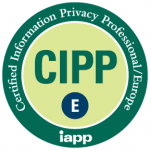 "I seized the opportunity as soon as IAPP decided to update the certification exam to include relevant information about the General Data Protection Regulation", says Tanskanen. "GDPR will affect the operations of our clients in major ways in several fields of business, and no one should be dragging their feet anymore."
"Data protection compliance is not just about adherence to laws", Tanskanen remarks. "Better understanding of the regulatory environment can be leveraged to gain competitive advantage when the operations of the organization are optimally reconciled with compliance requirements. This way, the use of the data collected in the everyday operations will be both compliant and aligned with long-term business needs."
CIPP/E is a professional credential specific to European data protection professionals, developed by leading experts and encompassing pan-European and national data protection laws, the European model for privacy enforcement as well as the practical challenges around the protection of personal data and trans-border data flows. Maintaining the certification requires committing to continuous training and further development of the gained expertise.
"Data protection is a very global field for HH Partners", says Martin von Willebrand, the head of the HH Partners Tech practice. "The majority of our assignments in this field are international, and we have developed a tight and wide network of cooperation around data protection matters. Our clients benefit from being able to cover their data protection needs globally."