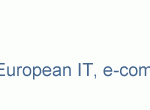 The European-wide e-commerce, technology, data protection and privacy oriented collaborative network of law firms, Ecomlex, assembled for a meeting in Helsinki on the 12th of May 2017. The spring meeting of the network was hosted by HH Partners.


"Ecomlex meetings offer a great opportunity to deepen our expertise and our office's contacts with the leading law firms in the field", tells our Partner Martin von Willebrand. "The Ecomlex network consists of law firms from 16 European countries as well as from California and China.  HH Partners has been a member since 2001."
Ecomlex arranges two meetings annually. At this year's spring meeting Tamar Sacerdoti (Robus) gave a presentation on the technology sector and legal market in Israel, while Harri Salminen (Cybercom) shed light on Cybercom's use of open source in their business. The member offices also exchanged views on the newest trends in technology law and data protection.
"The member firms utilize the network when handling their customers' technology-related assignments", tells von Willebrand. "Working with the technology sector requires deep expertise, making a technology-oriented association useful for our customers who often operate on the global market. Established relationships with Ecomlex member firms make it simpler and quicker to meet the needs of our customers."