Our renewed website launched on 1 March 2017. The main requirement in the website update was to create an adaptive website that performs well also when used with mobile devices and tablets. Additionally we wanted to refresh our online visual appearance. We chose WordPress as the technical platform of our website because of its features and good reputation. Categorizing our publications – which we now refer uniformly as articles – was easy and now different categories can be smartly used in the presentation of content.
Tom Jakobsson was responsible for the visual outlook of the webpages. The technical implementation was done by Jouni Salo of Red Tail Media. As a whole the visual outlook of the website combined with great scalability results in a very pleasant outcome.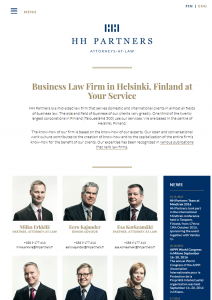 One challenge relating to the project was the selection of a hosting-provider. Performing security updates requires continuous work and updates should not be delayed. The provider Seravo with their WP-palvelu.fi service was selected because their service is specifically focused on WordPress-hosting and includes automatic security updates. Automatic updates may not always work perfectly. However, the positive sides relating to automatic security updates far outweigh the negatives: updates are performed promptly and the amount of work per update is minimal.
Martin von Willebrand
Partner Martin von Willebrand of HH Partners was the project owner of our website update project.