HH Partners has been ranked by Media Law International 2016 –survey. According the publication:
"Copyright and marketing specialist HH Partners works closely with publishing and technology companies on all aspects of licensing and dispute resolution. Key practitioner Esa Korkeamäki represents domestic and international clients in courts, including administrative courts".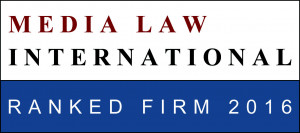 Media Law International's publication provides comprehensive coverage of firms and practitioners with media law expertise, across 52 jurisdictions. The research is based on objective market analysis that focuses exclusively on one practice area, media law.