HH Partners and our partner Esa Korkeamäki have once again received recognition in the 2021 edition of Media Law International which focuses on media law.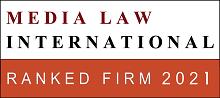 According to Media Law International, "HH Partners specializes in copyright and marketing and works closely with various publishing and technology companies on a wide range of licensing and litigation matters. As a key practitioner, Esa Korkeamäki represents both domestic and international clients in courts."
Media Law International is an independent publication that evaluates and lists media law experts and companies in 56 different countries. The publication is based on objective market analysis that focuses exclusively on media law.