HH Partners is a member of TAGLaw®, a worldwide alliance of more than 145 independent law firms, providing a full range of legal services to clients all over the world. Founded in 1998, TAGLaw has quickly risen through the ranks and today, with more than 9,000 lawyers located in 300 offices in over 80 countries, is one of the world's largest legal alliances.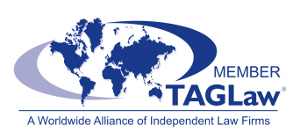 How Can HH Partners Help Your Business?
Through TAGLaw, HH Partenrs has the global reach to serve clients wherever the growth of their business takes them. Whatever or wherever your challenge or opportunity might be, we can access local and knowledgeable expertise from trusted legal counsel using TAGLaw. For more information about how our TAGLaw relationships can help your business, contact Markku Korvenmaa or Miika Erkkilä.
A Different Kind of Alliance – TAGLaw and The TAG Alliances™
TAGLaw is a part of the TAG Alliances which is composed of three groups: TAGLaw, TIAG® (The International Accounting Group), and TAG-SP™. TIAG is an international alliance of high quality, independent accounting firms and TAG-SP is a complementary association of strategic business partners. Collectively, the TAG Alliances provide accounting, legal, financial and business support services on a worldwide scale. With approximately 15,725 professionals in 260 member firms, and 530 offices in over 90 countries, The TAG Alliances serve tens of thousands of clients from all industry and commercial sectors.
TAGLaw – Commitment to Quality
TAGLaw members are carefully selected for membership based on professional competence, commitment to client service, reputation within the legal community, and recommendations from existing members. TAGLaw members are highly respected, value-driven law firms with local market knowledge and expertise.
To maintain the highest quality, all TAGLaw firms commit to common objectives and standards, including:
Providing excellent, timely and cost-effective legal services
Developing and maintaining strong client relationships and personal service enhanced by the international resources shared among alliance members
Communicating clearly with clients on terms of professional engagement and progress of business

Disclaimer: TAGLaw is an international alliance of independent law firms, who share common objectives and standards, but are not under common control or management. Member firms in TAGLaw are not engaged in the joint practice of law, nor is there any legal or partnership relationship between or among the TAGLaw members by virtue of their membership in TAGLaw. TAGLaw itself does not practice law nor offer legal advice. TAGLaw disclaims any responsibility or liability for acts or omissions of any of its member firms.