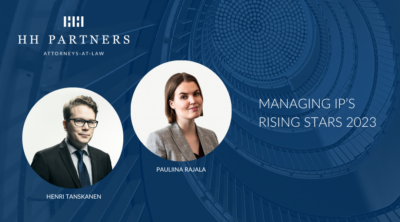 We are thrilled to announce that two of our lawyers, Attorney-at-law Henri Tanskanen and Associate Lawyer Pauliina Rajala have been named as "Rising Stars in IP 2023" by Managing IP's IP STARS.
Managing IP's Rising Stars publication, established in 2018, spotlights rising talents in intellectual property law who have made remarkable contributions to their firms and clients. Our Rising Stars, Henri and Pauliina, have been selected based on their expertise and contributions. They have earned this recognition through their outstanding work and engagement within the IP community. The list is based on information obtained during the research for the 2023 edition of IP STARS rankings and Managing IP Awards programme, relying especially on firm submissions and market feedback. We're proud to be part of this expanded coverage across 50+ jurisdictions.
Congratulations to the practitioners honoured this year! Your dedication is shaping the future of IP law.