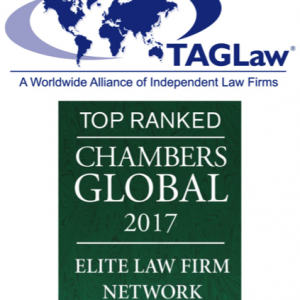 HH Partners' international legal alliance, TAGLaw®, was recently recognized by Chambers & Partners as "Elite" for 2017— the highest ranking awarded to legal networks and alliances. This is the fourth time TAGLaw has received the "Elite" designation since Chambers & Partners began ranking legal networks and alliances in 2013.
Since it's inception in 1998, TAGLaw has consistently been regarded as one of the top global networks and alliances of independent firms. As evidence of this, there are an estimated 170 legal networks and alliances in the world. Chambers & Partners has chosen to select only the top 10 networks and alliances to receive the "Elite" designation. Individually, more than 100 of TAGLaw's member firms have received awards from Chambers & Partners. Today, TAGLaw has more than 160 independent law firm members in over 90 countries.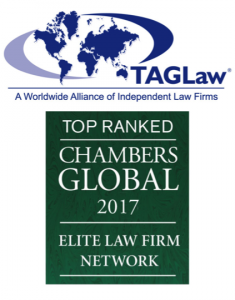 In selecting networks and alliances for their "Elite" status, Chambers & Partners pays particular attention to the quality of the member firms, their global reach, and the value that the alliance provides to its member firms. TAGLaw, with a global footprint in over 90 countries has leading firms in over 160 jurisdictions providing legal services to companies ranging from the Fortune 5000 and leading SMEs to high net worth individuals. With expertise in dozens of practice areas and countless industry sectors, TAGLaw offers a potent capability to its members' clients. This capability is expanded by TAGLaw's unique relationship with its sister alliance of accounting firms, TIAG®, providing members and clients with the multidisciplinary expertise needed in today's business world.
"Our clients require assistance throughout the globe. TAGLaw enables us to deliver our clients sound legal advice around the globe," explains Markku Korvenmaa, CEO of HH Partners. "Our established relations with TAGLaw and its member firms, allow our clients to get the required advice promptly; and cost-efficiently."
"We are extremely proud to be regarded as one of the preeminent legal networks and alliances in the world," said Richard Attisha, President & CEO of TAGLaw and TAG Alliances. "For years, Chambers & Partners has continually acknowledged the reputation of our global alliance and of our individual member firms and their lawyers. This recognition is a tribute to the quality of our member firms, illustrated by their reputations and prominence in their local markets and by their ability to deliver outstanding client service."
TAGLaw members are invited to join TAGLaw only after undergoing a comprehensive vetting and selection process. Firms are carefully chosen based on professional competence, commitment to client service, reputation within the legal community and recommendations from existing members. Candidate firms are reviewed and if they satisfy TAGLaw's criteria, the TAGLaw Advisory Board approves the candidate as a member. Members then receive access to TAGLaw's international resources as well as the multidisciplinary resources found within the broader TAG Alliances™ (TAGLaw, TIAG® and TAG-SP™).
###
About TAGLaw® and The TAG Alliances®
Founded in 1998, TAGLaw® is an international alliance more than 160 independent law firms. In 2017, Chambers Global ranked the alliance "Elite", the highest ranking awarded to legal networks. The TAG Alliances comprise three groups: TAGLaw, TIAG® (The International Accounting Group), and TAG-SP™. TIAG is an international alliance of high quality, independent accounting and TAG-SP is a complementary association of strategic business partners. Collectively, the TAG Alliances provide accounting, legal, financial and business support services on a worldwide scale. With approximately 16,000 professionals in over 285 member firms, and more than 675 offices in over 105 countries, The TAG Alliances serve tens of thousands of clients from all industry and commercial sectors. Learn more at www.TAGLaw.com.
Stay Up To Date with TAGLaw:
Twitter – https://twitter.com/taglaw
Facebook – https://www.facebook.com/taglawalliance
LinkedIn – https://www.linkedin.com/company/tag-alliances/
About Chambers & Partners
Since 1990, Chambers and Partners has researched the legal markets of over 180 countries, identifying the leading lawyers, law firms and networks worldwide through interviews with thousands of lawyers and their clients. Chambers prestigious reputation is based on the independence and objectivity of their research. Learn more about Chambers & Partners at www.chambers.com.